Products > Dosing pump > Chemical Plunger dosing pump for Petrochemical
Chemical Plunger dosing pump for Petrochemical
Release time:2019-05-28
&nbsp&nbsp
Browse times:1878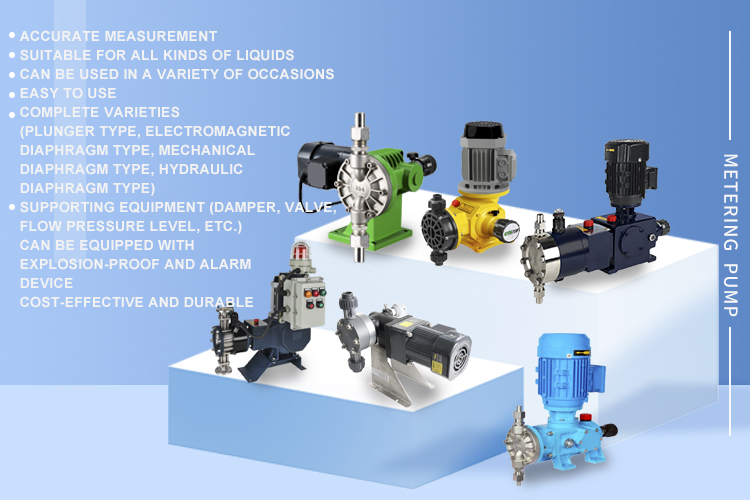 Technical Data:
Max flow rate:329L/H
Max discharge pressure:211bar
Regulating ratio: 10:1, Steady precision:±1%
Suction lift:3M
Main feature:
Driving end
a.Unique eccentric turbine integrated structure,compact mechanism, accuratetravel, small installation space
b.Wear-resisting ball bearings, running is more stable
c.Oil bath lubrication, drivingcomponentshavelongworkinglife
d.Flow regulationin downtime or running state, adjustment modecan beselectedmanuallyor frequency conversion
Hydraulic end
a.Bypass oil supply form, hydraulic drive diaphragm, long service life
b.The built-in structure of pressure relief valve will protect pump head anddiaphragm automatically
c.Many kind of pump head material likePVC, PVDF, 316SS, fit for all kind ofmaterials
d.Option: Pressure double diaphragm leak detection(local/long-distance) alarm
C
ontrol mode
a. Power supply: 380V/220V-50Hz/three phase/single phase
b. The frequency conversion controller accepts the external control signal, regulates the stroke speed, and the input signal is 4-20 mA analog signals
c. The motor controller controls the three-phase motor in an open / stop mode to adjust the output flow
Main application
Petrochemical industry, chemical, power, metallurgy and other fields, especially in the field of high precision, high pressure, high temperature outstanding performance.