Products > Water Quality Instrument > Online DO dissolved oxygen meter (Stop Production)
Online DO dissolved oxygen meter (Stop Production)
Release time:2021-04-21
&nbsp&nbsp
Browse times:3546
RD-20N dissolved oxygen analyzer is an online intelligent dissolved oxygen detector, we introduce the foreign technology, using imported components and dissolved oxygen membrane head, new polarographic analysis technology based on, and advanced production technology and surface mount technology. This series of advanced analytical techniques are used to ensure the stability, reliability and accuracy of the instrument over a long period of time. It has functions of Chinese menu, RS485 communication and so on. It can be widely used in chemical, fertilizer, metallurgy, environmental protection, water treatment projects, pharmaceutical, biochemical, food, aquaculture and tap water, such as continuous monitoring of dissolved oxygen value.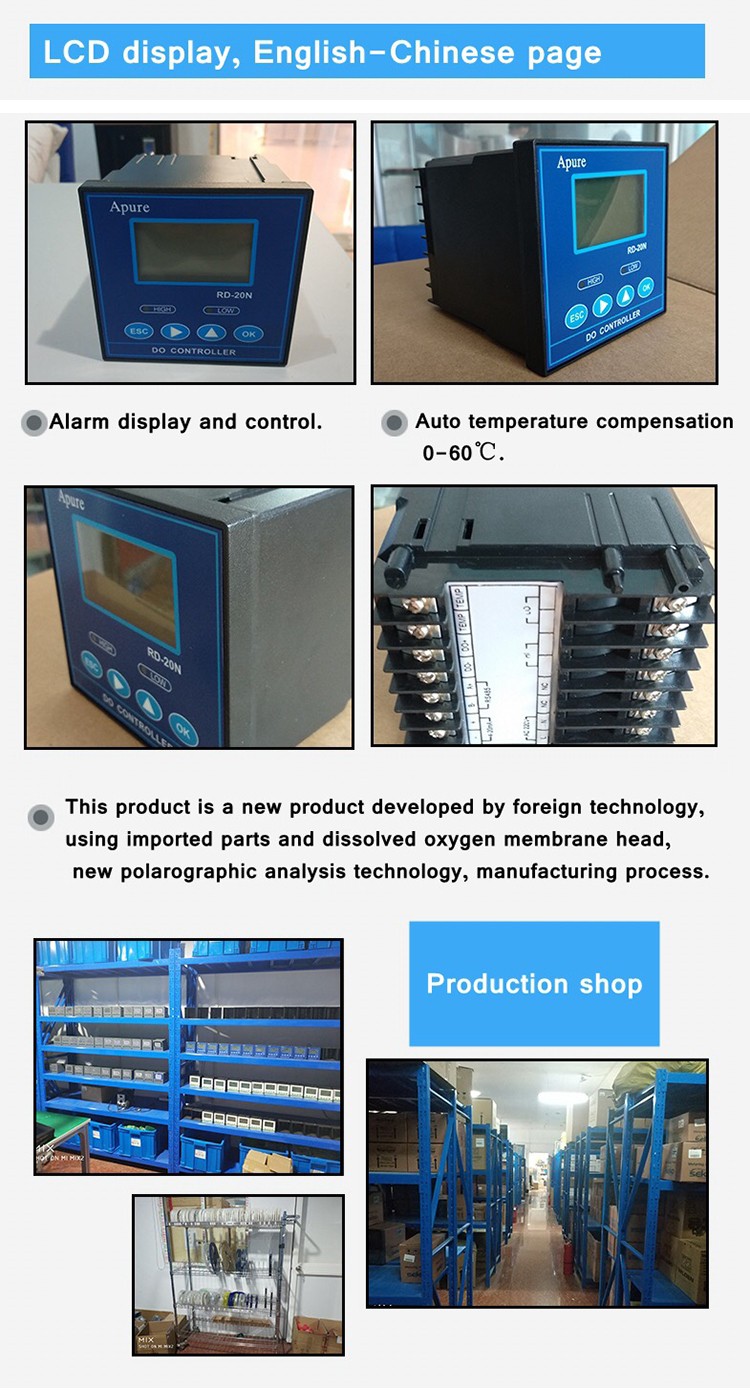 High Quality cheap DO probe/DO Meter/Dissolved oxygen controller sensor water tester

| | |
| --- | --- |
| Product Name: | High Quality cheap DO probe/DO Meter/Dissolved oxygen controller sensor water tester |
| Brand: | APURE |
| Measuring range: | 0-20mg/L, automatic range switching; 0-60℃ |
| Resolution: | 0.1mg/L, 0.1℃ |
| Precision: | ±0.5% FS, ±0.3℃ |
| Automatic temperature compensation: | 0-60℃ |
| Control interface: | two sets of normally open relay contact, divided into high and low alarm signal, photoelectric isolation output |
| Signal isolation output: | photoelectric coupler isolated protection 4-20mA signal output |
| Relay: | arbitrary setting of hysteresis, relay load 3A 220VAC |
| Working conditions: | ambient temperature of 0-60℃, relative humidity ≤ 90% |
| Output load: | <300Ω (4-20mA) |
| Working voltage: | 110-220VAC±10%, 50/60Hz |
| Dimensions: | 96×96×115mm |
| Cut off dimensions: | 91×91mm |
| Weight: | 0.9Kg |
| Warranty period: | 1 year |


Characteristics:
●Large screen dot matrix LCD display, English menu operation.
● Multi parameter simultaneous display: oxygen value, temperature, output current, alarm point and so on. Visually readable and with range overrun hints.
●The alarm status is displayed on the screen, and the output of the switch ON signal can be simultaneously connected.
●Communication function (optional): RS-485 communication interface (MODBUS Protocol Part compatible), 4-20 mA current output corresponding to the DO value can be arbitrarily set
●Arbitrary setting function of hysteresis, Avoid frequent action of switch and relay.
●Watchdog function: Make sure the instrument does not crash.
● The core components come from famous foreign brands.