Products > Water Analyzers > industrial online automatic orp ph meter
industrial online automatic orp ph meter
Release time:2019-07-05
&nbsp&nbsp
Browse times:1729
Online Automatic control dosing pump ph orp controller meter for water treatment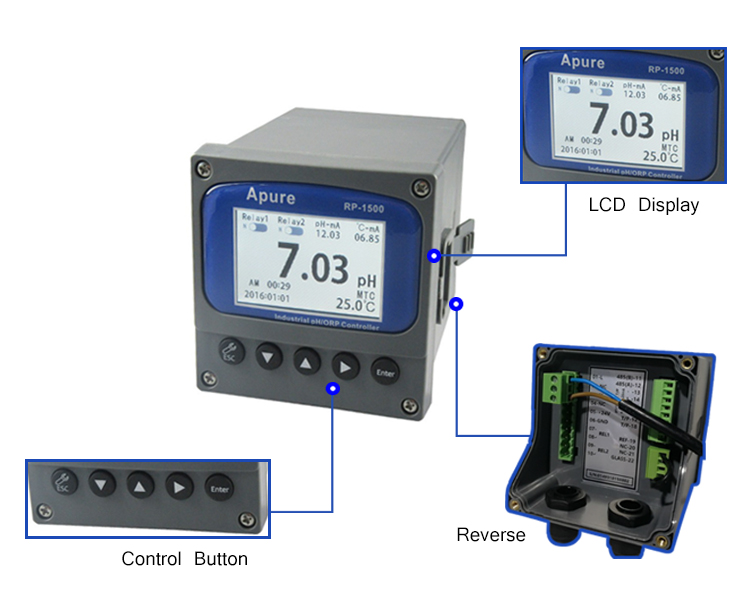 High-definition screen
4-20mA or RS485 signal.
2.4 inch screen display.
Switch in English and Chinese.
High-low alarm relays.


Measurement reference isolation
Increase the input signal insulation, to eliminate the signal interference.
Automatic programmable compensation standard.
Technical Parameter

Sensor input range

0.00 ~ 14.00 PH

Accuracy

0.02PH

Stability

± 0.1PH

Display

Back light 3.5-bit LCD

Temperature comp

Automatic programmable compensation standard Temperature: 0-60

Electrode

0.05cm-1 sanitary grade electrode,1/2" thread

Cable length

10m or others(5~30m)

Current output

Isolated 4-20mA current output Environmental conditions:

Humidity

≤ 85%RH

Control output

Relay control output, Hi,Lo,on,off

Power supply

AC 220V ±10% 50HZ and DC 24V

Environmental conditions

temperature : 0~50°c; Humidity : ≤85%RH

Dimensions

96× 96 × 130mm (height × Width × Depth)

Panel cut-out

92X92mm

Installation

Cut-out Fit-In
Video live test is shown here: Online pH orp meter controller
If you have any requirements, click here to contact us.