Products > Dosing pump > Milton roy Mechanical diaphragm metering pump
Milton roy Mechanical diaphragm metering pump
Release time:2019-11-25
&nbsp&nbsp
Browse times:3184
Milton roy Mechanical diaphragm metering pump


LMI's family of electronic metering pumps offer:
• Adjustable stroke frequency and the flexibility of up to 1000:1 turndown ratio

• Manually adjustable stroke length provides accurate pump output adjustment
• NEMA 4X / IP65 enclosures for protection against corrosive environments
• Time tested electronics for reliable, repeatable performance
• Totally encapsulated electronics for protection against moisture and corrosive conditions
• Priming valves with Flourofilm ™ diaphragms and ramp style knobs for "hands free" priming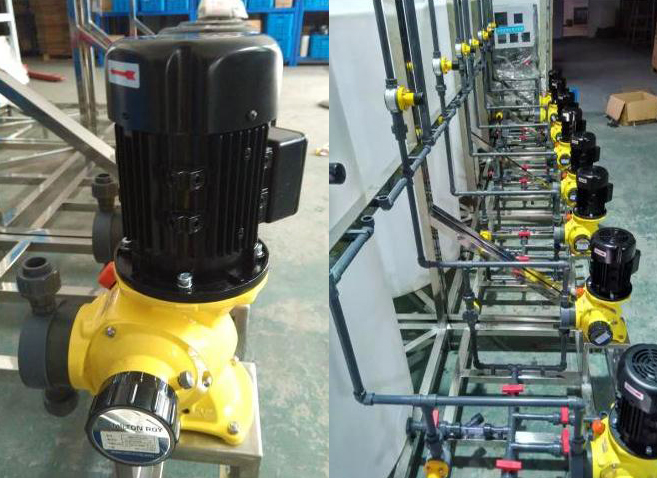 G series mechanical diaphragm metering pump
The characteristics of Variable eccentric mechanism adjustment, gentle pulsation
• various materials and pump head structure optional -PVC, PVDF, 316SS, high viscosity and slurry pump head
• mechanically driven PTFE diaphragm
• material side diaphragm protector, easy to pass through
• three automatic control modes, suitable for various control needs
• manual/electric stroke adjustment is optional
• adjustable stroke 0~100% (automatic/manual)
• the stroke can be adjusted under both static and dynamic conditions
• maximum liquid temperature 40℃*
• steady-state accuracy: ±2% (10%~100%)
• maximum suction: 3m water column *
• maximum suction pressure: 20m water column
• optional dual diaphragm head construction
• recommended maintenance cycle: ≤1.0MPa4000h 0.7 or less MPa8000h, Automatic control mode selection
• electric stroke controller
Receive external control signal, adjust the length of metering pump stroke, Thus changes the metering pump output flow.
G series metering pump chooses HE type. Among them, the GB series can choose ECC explosion-proof type.
• frequency conversion controller
Receive external control signal, adjust the speed of metering pump stroke.
Power supply: 380V/50Hz three-phase /220V/50Hz single-phase
Control signal: 4~20mA
• VARIPULSE controller:
Used for GM series metering pump, used for controlling three-phase motor,
Change the stroke frequency, so as to adjust the output flow of metering pump.
Model table of mitron GB series mechanical diaphragm pump:
Model

Flow (l/h)

Pressure (bar)

Motor power

Pump head

GB0080

82

10

0.55KW/0.75KW

PVC /PVDF /316Stainless steel

GB0180

167

10

GB0250

237

10

GB0350

334

10

GB0450

416

10

GB0500

464

7

GB0600

583

7

GB0700

656

3.5

GB1000

946

3.5

GB1200

1200

3.5

0.75KW

GB1500

1500

3

GB1800

1800

3
Main performance

parameters
• maximum flow per head: 1800L/H
• maximum discharge pressure: 12bar
• adjustment ratio 10:1, steady-state accuracy 2%
• suction lifting height up to 3m water column
• maximum inlet pressure is 2bar
• allow material maximum temperature of 40 ℃
The main characteristics
The hydraulic end

• mechanically driven diaphragm, no diaphragm guard plate on the material side to facilitate the passage of materials
• PVC, PVDF, 316SS, high viscosity, slurry, etc.
Suitable for all kinds of materials
• self-cleaning one-way valve structure
Drive end


• adjustable eccentric mechanism to ensure smooth change of flow pulsation
• enhanced structural design for harsh operating environments
• wear-resistant ball bearing for more stable operation
• oil bath lubrication, long working life of driving parts
• the flow can be adjusted when the machine is stopped or running
Type can be player moving, electric or frequency conversion
The control mode
Electric stroke controller: accept the external control signal, adjust the stroke length
• power supply: 220v-50hz - single phase
• input signal: 4-20ma analog signal
• output signal: 4-20ma / 1-5v analog signal for recording display and control system
Frequency conversion controller: accept the external control signal, adjust the stroke speed
• power supply: 220v-50hz - single-phase / 380v-50hz - three-phase
• input signal: 4-20ma analog signal